Highly sensitive Raman spectrometer for material analysis

The Raman-Spectrometer MA-RBE-V02 is a modern, user-friendly Raman device with an integrated high-resolution grating spectrometer.
Raman Spectroscopy is a non-destructive analysis method, which is be used to reliably identify a variety of materials within minutes.
The device is usable for a variety of purposes, but is especially optimized for analyzing and identifying mineral samples. Even though it was designed without compromising on performance, we are offering the system for a very competitive price.
Features and technical details:
Spectrometer: Resultion better than 2 cm-1, Wave number range < 80 cm-1 to 1.700 cm-1
Laser: Single-mode Nd:YAG laser with 50 mW power at 532 nm
Specialized operating software with extensive capabilities for analyzing and archiving captured data
digital imaging feature (microscopy feature) with selectable magnification
Further details can be found on the Spectrometer page.
Analysis software for Raman Spectra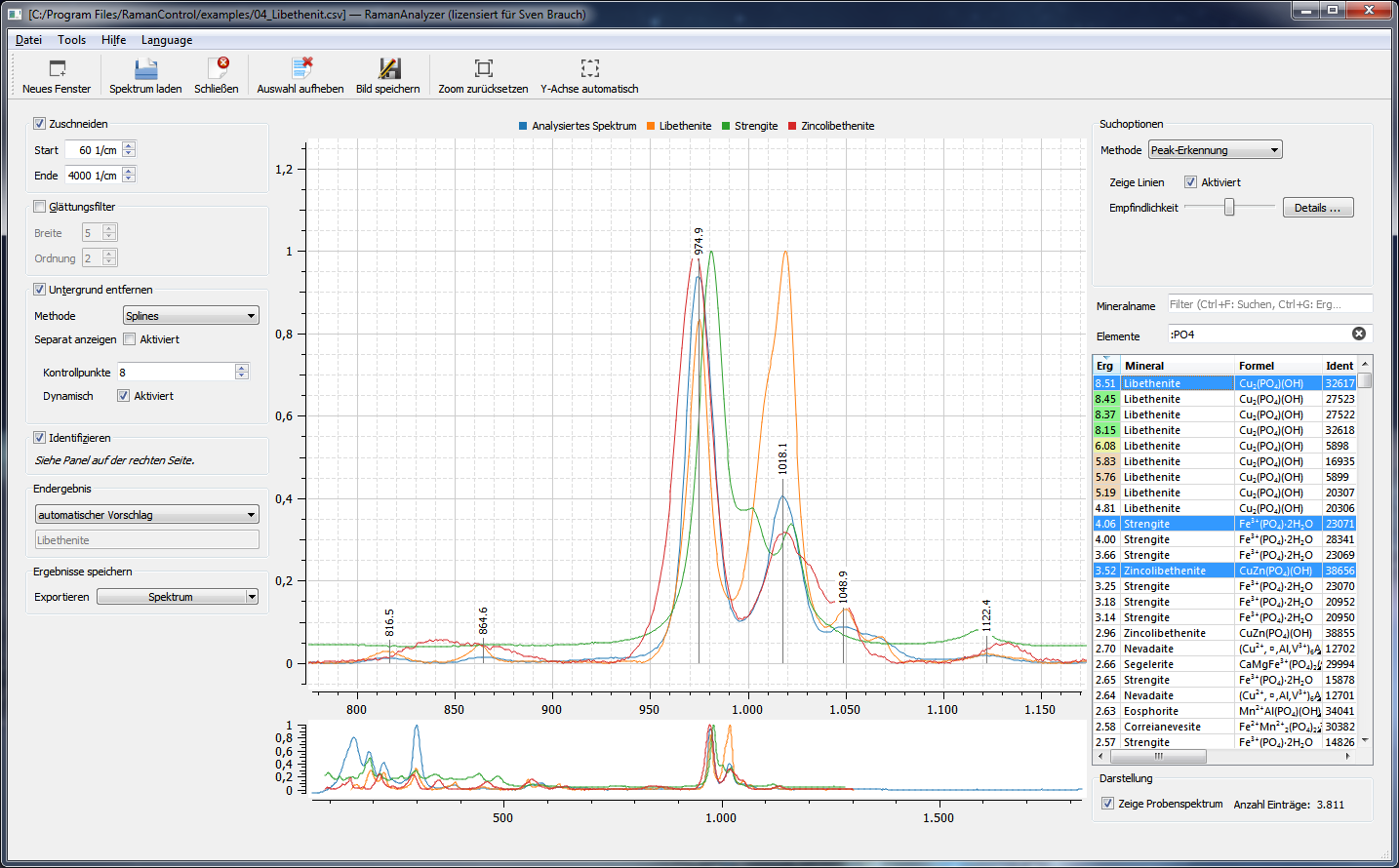 For customers already owning a Raman system, or customers who want to analyze Raman spectra from a different source, we offer the data analysis module from our spectrometer's operating software as separate module. With it, you can open, process and export Raman spectra in various formats.
Features and technical details:
Detection and removal of flourescence background light using different, partly proprietary methods
Comparison of own spectra with a Raman database with different, partly proprietary methods
Excellent search results in real-time thanks to careful optimization (< 50 ms typical for searching the whole database)
Import and export of libraries in the RRUFF database format
Available for Windows and Linux
Further details can be found on the Software page.
Company
Development, assembly and distribution for the Raman system are done in our small family business. The hardware was developed in collaboration with our partner Stonemaster uG, which has been known for years as a developer and distributor of precision devices in micro-photography.
Originally, the Raman system was developed in 2016 for identifying mineral samples. After the sale of several devices to multiple customers, it is now reaching other areas of application as well.